Global Industry Classification Standard (GICS) Overview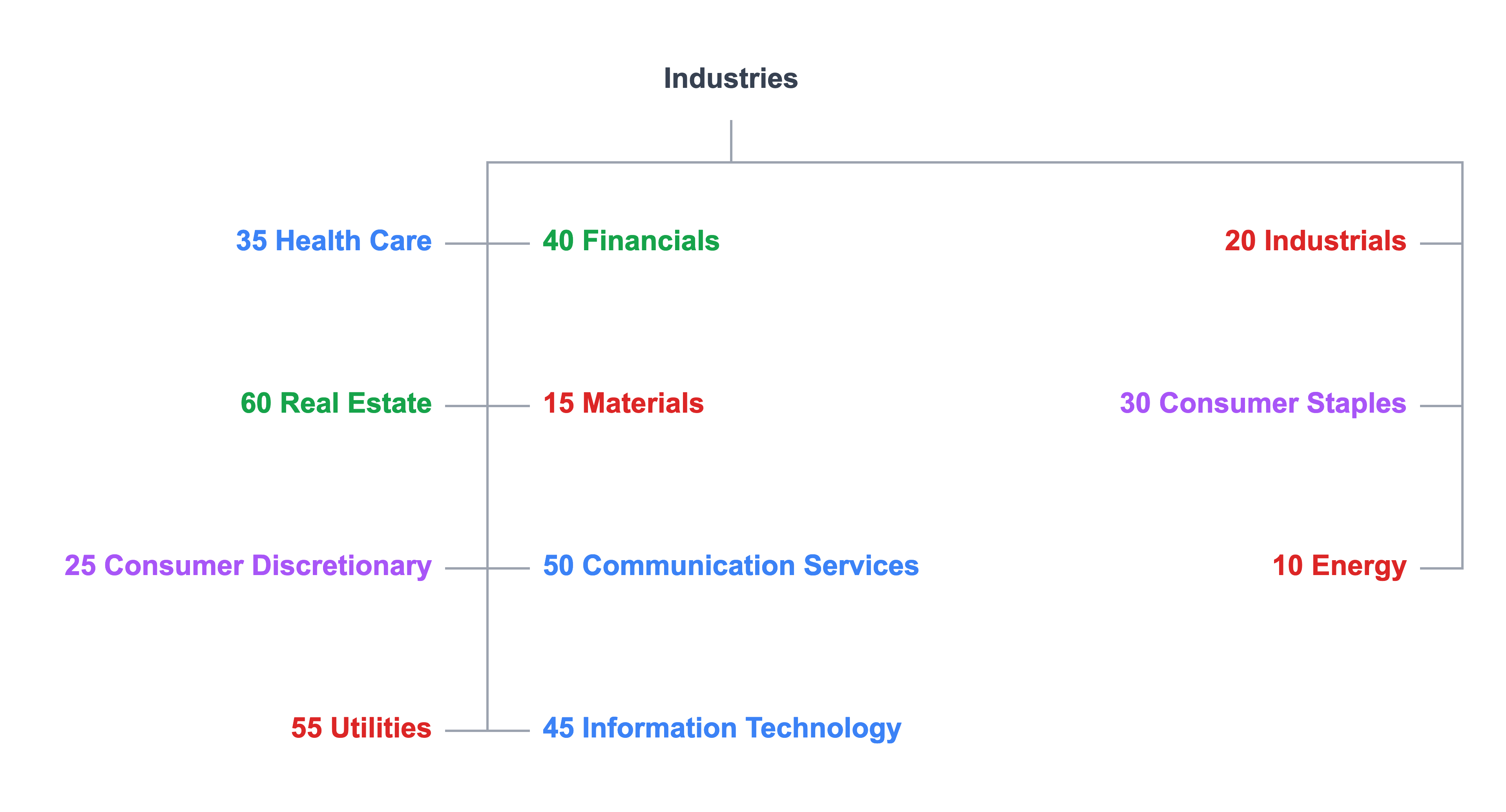 Introduction to Global Industry Classification Standard (GICS)
The Global Industry Classification Standard (GICS) is a widely accepted standard used by the global financial community for classifying companies into sectors and industries. It was developed by Morgan Stanley Capital International (MSCI) and Standard & Poor's (S&P), aiming to provide a comprehensive, consistent framework for investment research, portfolio management, and asset allocation.
Structure of GICS
The GICS framework consists of 11 sectors, which are broken down into 24 industry groups, 68 industries, and 157 sub-industries. Each company is assigned a single sub-industry according to its primary business activity, and this sub-industry code determines the company's classification at all other higher levels of the GICS hierarchy. The sectors, in ascending order of economic sensitivity, are as follows:
Energy
Materials
Industrials
Consumer Discretionary
Consumer Staples
Health Care
Financials
Information Technology
Communication Services
Utilities
Real Estate
For a detailed understanding of these sectors, refer to the official GICS structure document.
This hierarchy chart shows the major industries.
This chart is made with Lexchart for automatic organization charts.
There is an interactive version of the Global Industry Classification Standard (GICS) hierarchy chart that allows you to explore it with panning and zooming.
Importance and Use of GICS
GICS plays a vital role in the investment process, from asset allocation to portfolio construction and performance measurement. It allows for meaningful comparison of companies across borders and helps investors and researchers identify trends in various sectors of the global economy.
The GICS methodology has been widely accepted by asset managers and institutional investors worldwide. It is used as a benchmark for investment portfolios and serves as the basis for S&P and MSCI's financial market indexes, which are used as performance benchmarks for active investment strategies.
GICS provides a useful tool for investors and analysts to classify and analyze companies without ambiguity. By understanding the GICS hierarchy and its classifications, investors can gain a deeper understanding of the global economic structure and navigate the investment landscape with more precision and insight.