Global Industry Classification Standard (GICS) - Financials Sector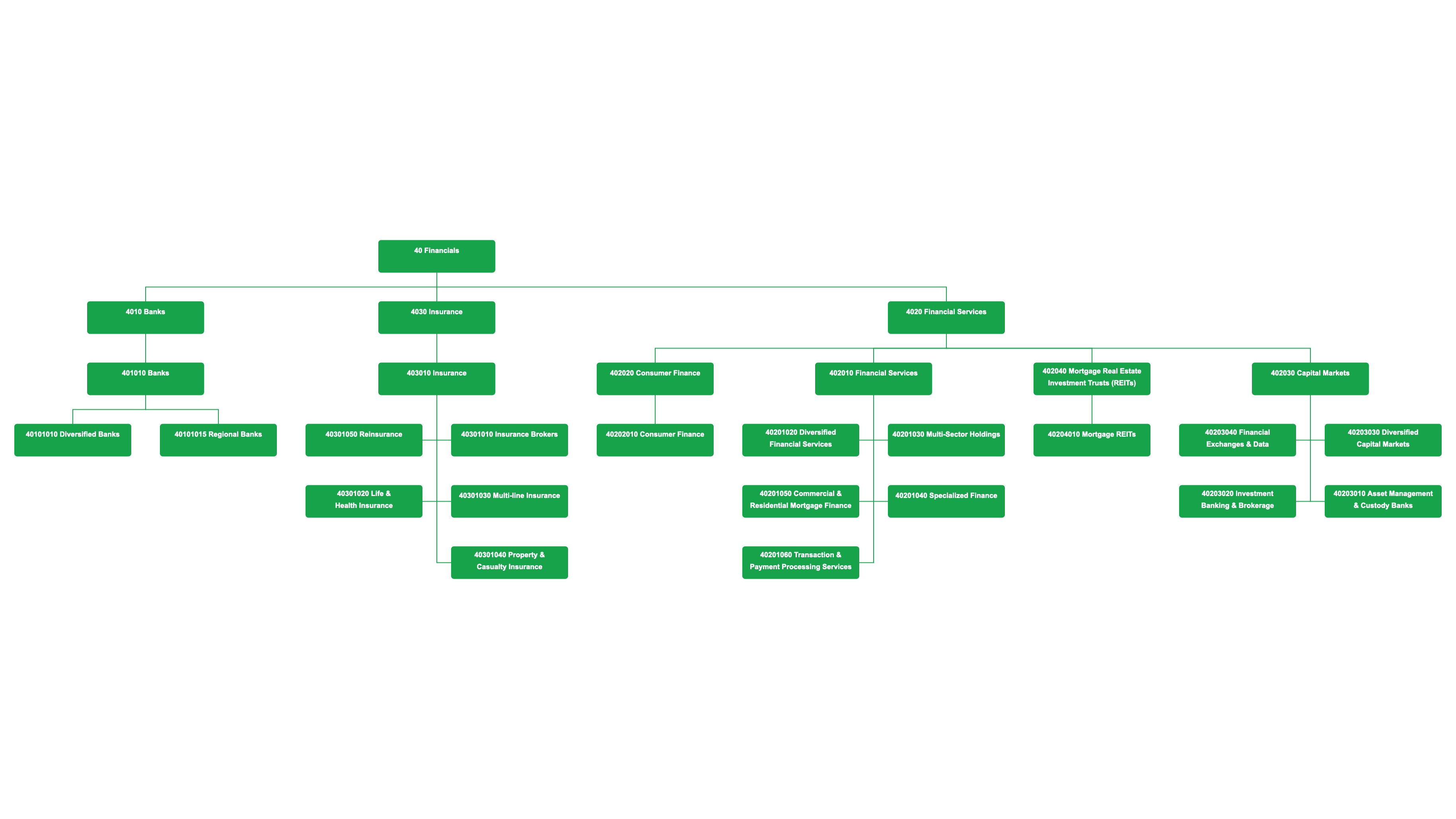 40 Financials
The financials sector is a cornerstone of the global economy, facilitating the flow of capital, offering lending and insurance services, and assisting with wealth management. It includes banks, diversified financial services, consumer finance, capital markets, and insurance.
The Global Industry Classification Standard (GICS) is a widely accepted standard used by the global financial community for classifying companies into sectors and industries. It was developed by Morgan Stanley Capital International (MSCI) and Standard & Poor's (S&P), aiming to provide a comprehensive, consistent framework for investment research, portfolio management, and asset allocation.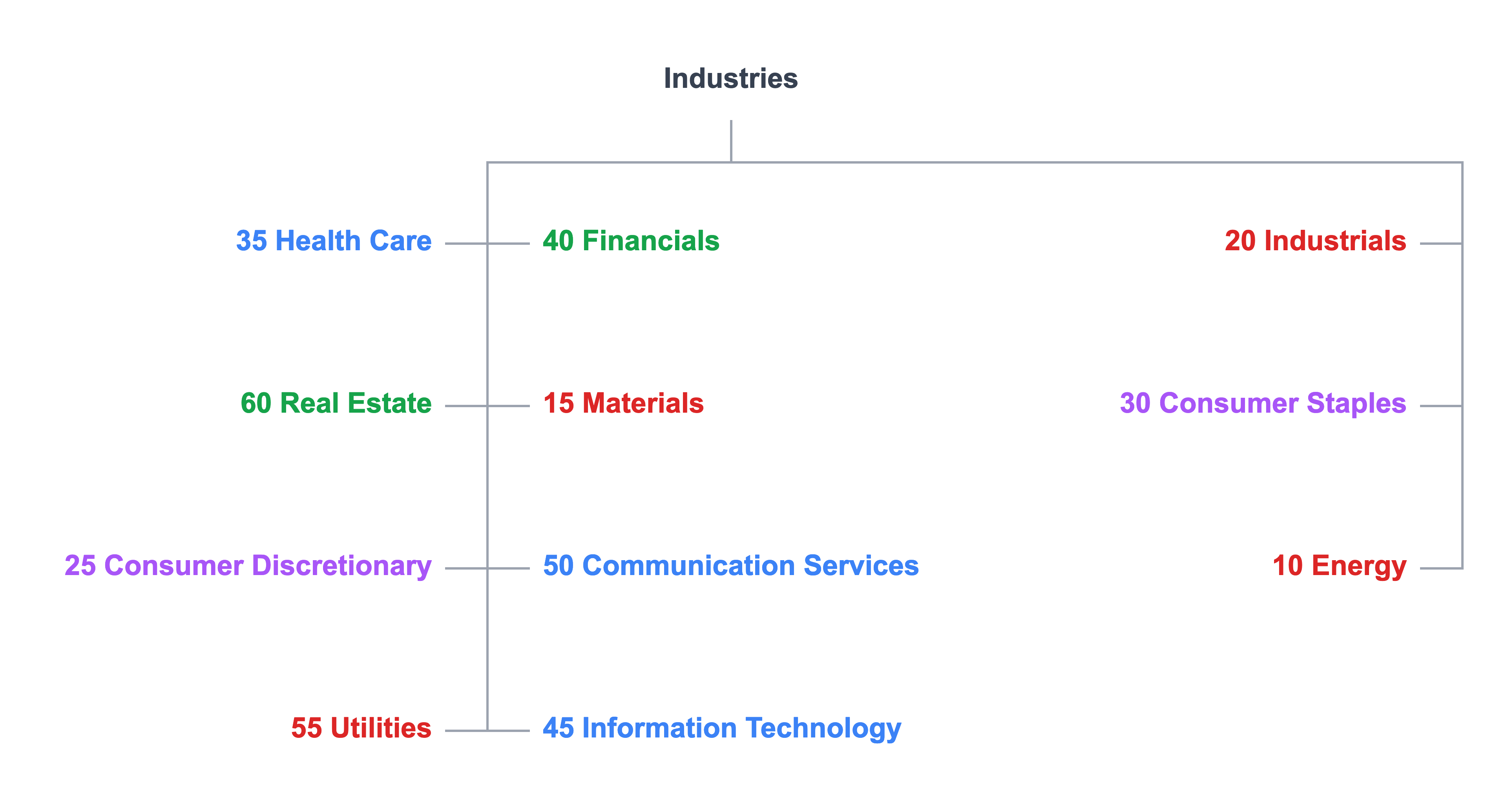 4010 Banks
Banks form the backbone of the financials sector, enabling both individual consumers and businesses to manage their finances, invest, and obtain credit.
401010 Banks
Within the banking sector, there are different categories of banks providing diverse services.
40101010 Diversified Banks
Diversified banks offer a broad range of services, including but not limited to personal banking, corporate banking, and wealth management.
40101015 Regional Banks
Regional banks, often catering to specific geographic locales, provide localized banking services and are crucial in serving communities' financial needs.
You can access a free, interactive version of the Global Industry Classification Standard (GICS) - Financials Sector hierarchy chart that includes panning and zooming to explore the details.
This chart is made with Lexchart for automatic organization charts.
4020 Financial Services
Financial services companies support the banking sector and offer various specialized services to consumers and businesses.
402010 Financial Services
Within the financial services industry, there are multiple branches offering unique and specialized services.
40201020 Diversified Financial Services
Diversified financial services companies offer an array of services, often combining banking, investment services, and insurance.
40201030 Multi-Sector Holdings
Multi-sector holdings companies invest in different sectors, providing diversity and risk mitigation to their portfolios.
40201040 Specialized Finance
Specialized finance firms focus on niche areas such as factoring, leasing, or structured financing.
40201050 Commercial & Residential Mortgage Finance
Companies in this segment provide loans for commercial and residential real estate purchases.
40201060 Transaction & Payment Processing Services
These firms handle electronic transactions, credit card processing, and other related services, playing a crucial role in modern commerce.
402020 Consumer Finance
Consumer finance companies provide loans, credit, and financing to individual consumers.
40202010 Consumer Finance
This segment includes firms offering personal loans, credit card services, and other related services, helping individuals meet their financial needs.
402030 Capital Markets
Capital markets encompass the sectors facilitating the buying and selling of securities such as stocks and bonds.
40203010 Asset Management & Custody Banks
Asset management and custody banks handle the management and safekeeping of securities and other assets on behalf of other institutions or individuals.
40203020 Investment Banking & Brokerage
Investment banks and brokerage firms facilitate the issuance of securities and offer related services such as mergers and acquisitions consulting.
40203030 Diversified Capital Markets
Companies in this segment operate across various capital markets, providing a wide array of services.
40203040 Financial Exchanges & Data
These companies operate securities exchanges and provide financial data to traders and investors.
402040 Mortgage Real Estate Investment Trusts (REITs)
Mortgage REITs invest in property mortgages, earning income from the interest on these loans.
40204010 Mortgage REITs
This category includes companies that invest and manage portfolios of mortgages and mortgage-backed securities.
4030 Insurance
Insurance companies provide risk management products and services, covering life, health, property, and various other domains.
403010 Insurance
This category encompasses a broad range of insurance providers, each offering unique products and services.
40301010 Insurance Brokers
Insurance brokers act as intermediaries between insurance companies and clients, helping clients find the most suitable insurance products.
40301020 Life & Health Insurance
These companies offer life and health insurance products, providing financial protection against health-related risks and life's uncertainties.
40301030 Multi-line Insurance
Multi-line insurance companies offer a wide array of insurance products, from car insurance to life insurance, under one roof.
40301040 Property & Casualty Insurance
These firms provide insurance products that cover damages to property and injuries to individuals, including car insurance and homeowners insurance.
40301050 Reinsurance
Reinsurance companies provide insurance to other insurance companies, spreading risk and providing stability to the insurance industry.
Conclusion
The Financials sector is a comprehensive and diverse aspect of the Global Industry Classification Standard (GICS). It encompasses various branches, including banking, diversified financial services, consumer finance, capital markets, and insurance. Each of these categories contains several sub-sectors that further specialize in different financial services.
From managing and protecting wealth to providing essential infrastructure for global commerce, the financials sector's integral role in the economy is undeniable. By understanding the nuanced categorization within GICS, one can better navigate and understand the complex ecosystem of the financial industry.