Global Industry Classification Standard (GICS) - Communication Services Sector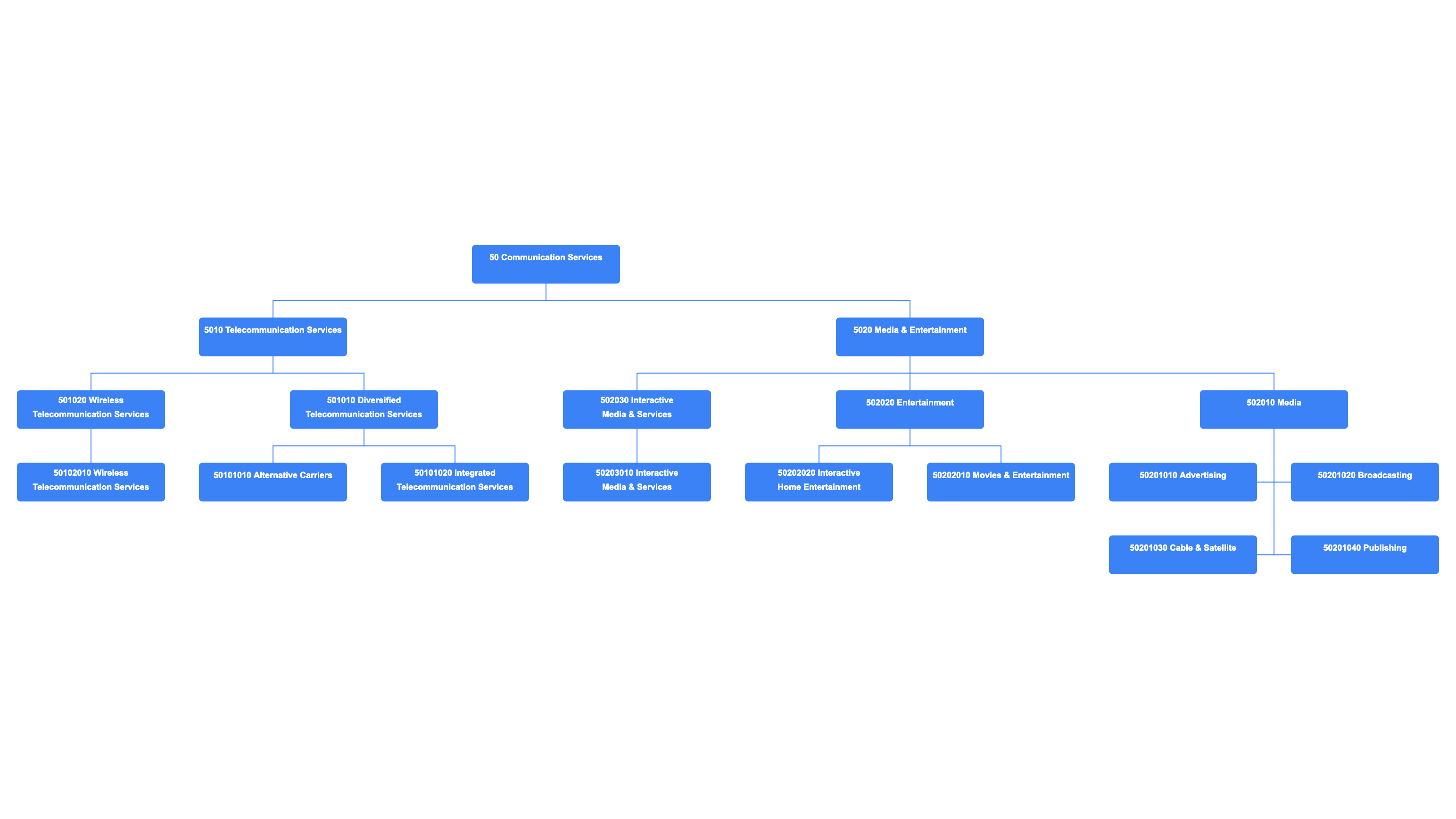 50 Communication Services
Communication Services is a broad sector encompassing businesses that facilitate human communication on a global scale.
The Global Industry Classification Standard (GICS) is a widely accepted standard used by the global financial community for classifying companies into sectors and industries. It was developed by Morgan Stanley Capital International (MSCI) and Standard & Poor's (S&P), aiming to provide a comprehensive, consistent framework for investment research, portfolio management, and asset allocation.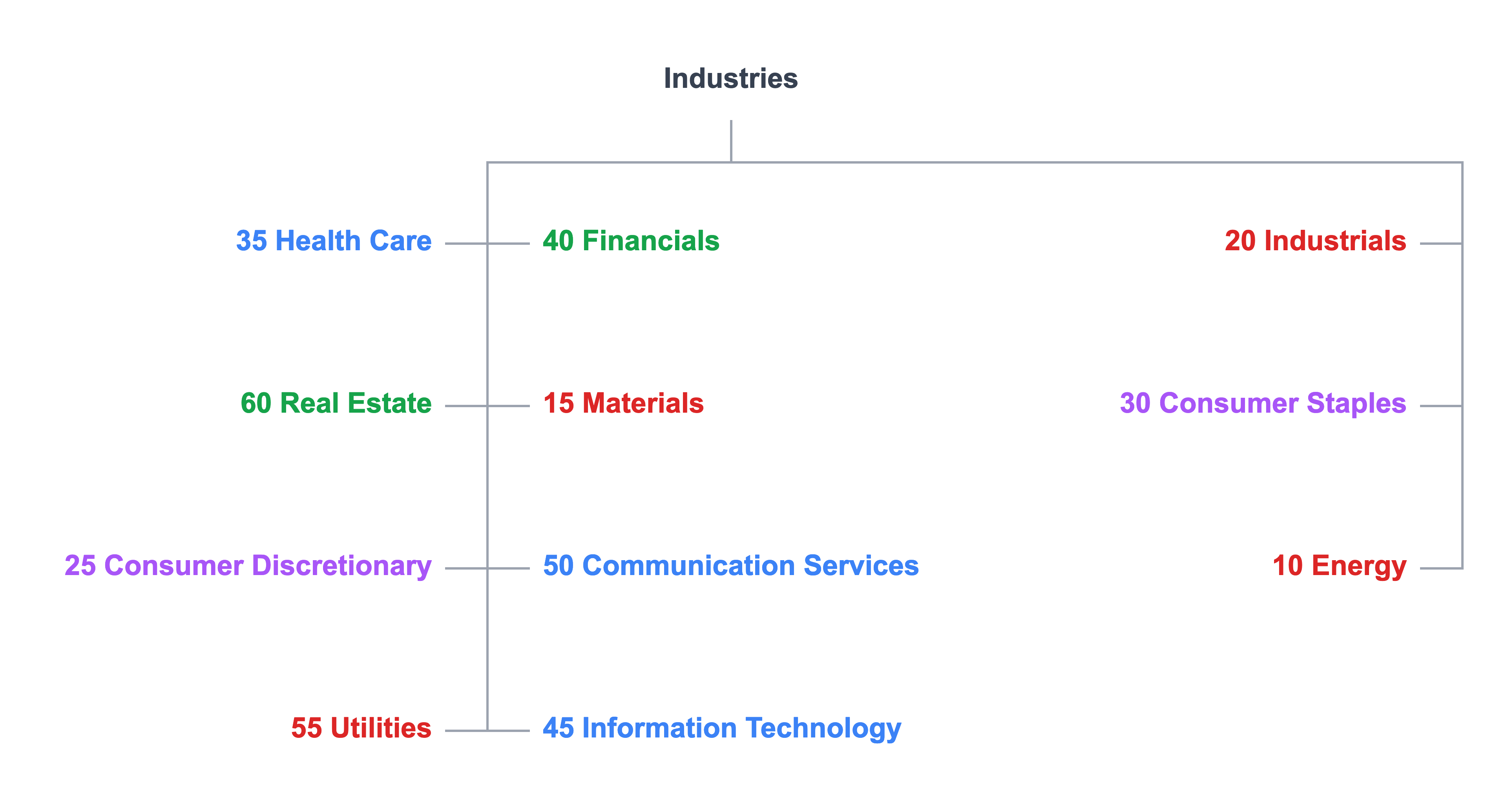 5010 Telecommunication Services
Telecommunication Services is the backbone of the Communication Services sector, offering a range of necessary platforms and technologies.
501010 Diversified Telecommunication Services
Diversified Telecommunication Services encompasses companies that provide a mixed range of telecommunication services.
50101010 Alternative Carriers
Alternative Carriers includes businesses that provide specialized or alternative telecommunication services, offering consumers more choices in their communication needs.
50101020 Integrated Telecommunication Services
Integrated Telecommunication Services involves companies that provide a comprehensive suite of telecommunication services, from landline to mobile, and internet services.
501020 Wireless Telecommunication Services
501020 Wireless Telecommunication Services covers companies that offer wireless communication services, an increasingly dominant part of the global communication landscape.
50102010 Wireless Telecommunication Services
Wireless Telecommunication Services involves businesses that provide communication services primarily through wireless means, serving both individual and corporate clients.
You can access a free, interactive version of this Global Industry Classification Standard (GICS) - Communication Services hierarchy chart that includes panning and zooming to explore the details.
This chart is made with Lexchart for automatic organization charts.
5020 Media & Entertainment
5020 Media & Entertainment includes businesses that produce, distribute, and facilitate various forms of entertainment and media.
502010 Media
502010 Media covers companies involved in various forms of media, from traditional forms like print and broadcast to newer digital media.
50201010 Advertising
Advertising companies engage in promotional activities for other businesses, shaping public perception and consumer behavior.
50201020 Broadcasting
Broadcasting businesses distribute audio-visual content to a wide audience via various platforms, from traditional television and radio to digital channels.
50201030 Cable & Satellite
Cable & Satellite companies offer subscription-based media services, delivering a wide range of content to consumers' homes.
50201040 Publishing
Publishing includes companies that produce and distribute printed materials, such as books, magazines, and newspapers, often adapting to digital formats in recent years.
502020 Entertainment
502020 Entertainment is about companies that produce, distribute, and facilitate access to various forms of entertainment, from movies and music to video games and live performances.
50202010 Movies & Entertainment
Movies & Entertainment companies produce, distribute, and exhibit a variety of audio-visual entertainment, from films and TV shows to concerts and theater productions.
50202020 Interactive Home Entertainment
Interactive Home Entertainment companies provide digital entertainment that consumers can interact with, such as video games and virtual reality experiences.
502030 Interactive Media & Services
502030 Interactive Media & Services covers companies that offer media and entertainment products and services that are primarily digital and interactive in nature.
50203010 Interactive Media & Services
Interactive Media & Services involves companies that provide digital and interactive media services, often leveraging the Internet, mobile devices, and other technological platforms.
Conclusion
The Communication Services sector, as defined by the Global Industry Classification Standard (GICS), consists of two main sub-industries: Telecommunication Services and Media & Entertainment. Each sub-industry encompasses various categories and sub-categories, each playing a specific role in the overall communication and media landscape.
From Alternative Carriers who innovate in communication methods to Interactive Media & Services companies that are reshaping global communication, each category contributes uniquely to the sector. The detailed exploration provided in this hierarchy chart helps understand the nuances and intricacies of the diverse and ever-evolving Communication Services sector.