Simplify Organizational Restructuring and Alignment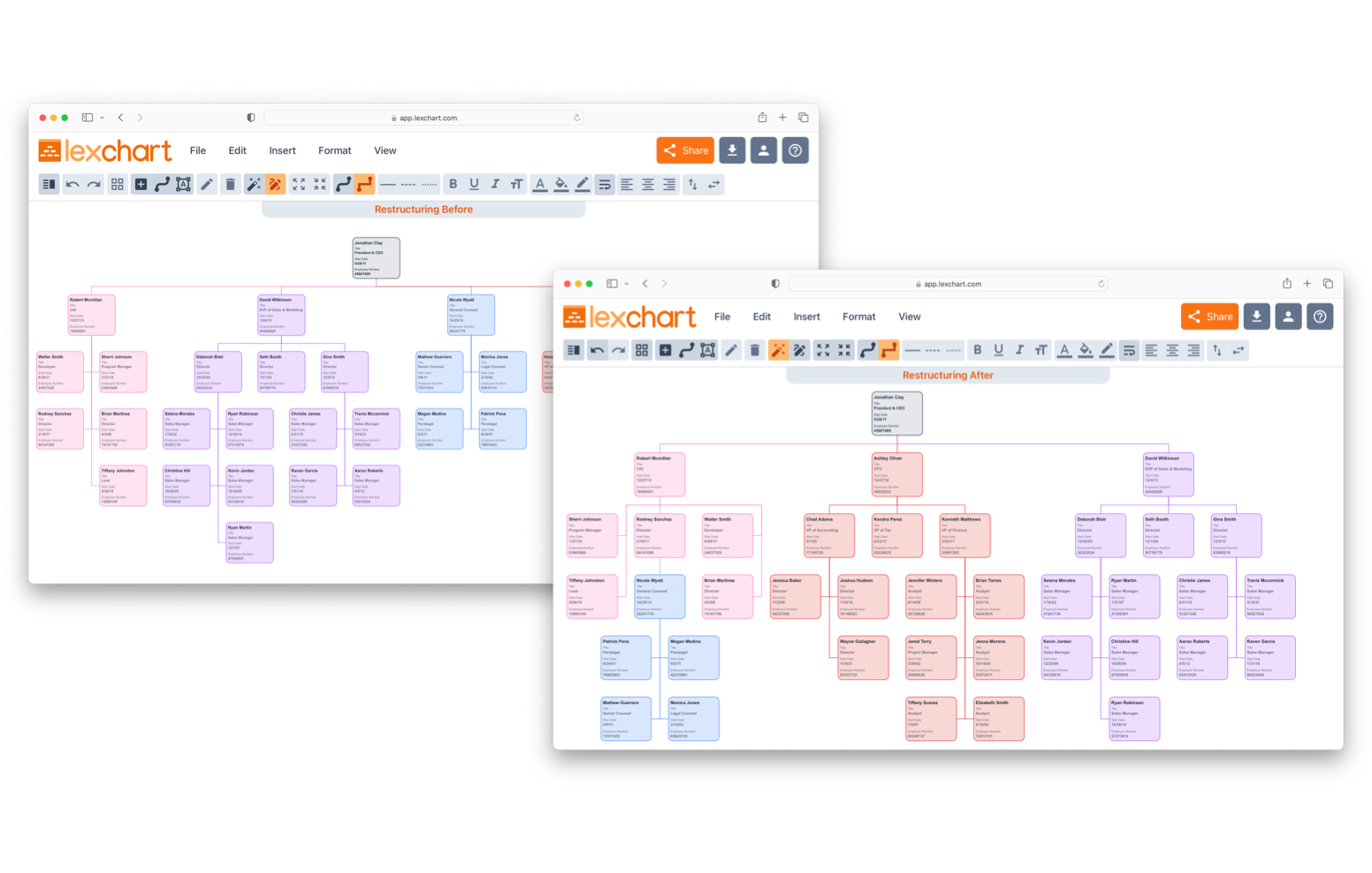 Lexchart is the solution to simplify your organizational restructuring. With our AI-powered software, you can streamline the restructuring process. Collaborate with leadership to ensure accurate changes to the organizational design. Our advanced layout optimization ensures your org chart is easy to read and understand, making it an effective communication tool for stakeholders. Let Lexchart help you navigate your next restructuring with ease.
Use AI to Create and Modify Org Charts Quickly
Lexchart's AI-powered org chart software makes it easy to create and modify org charts quickly. With Lexchart, users can import employee data from HR systems to generate an org chart in seconds. Lexchart's AI technology automatically identifies hierarchical relationships in the employee data, ensuring that the org chart is accurate and up-to-date. This reduces the time and effort required for manual chart creation and helps organizations to stay agile and responsive to change.
Collaborate to Make Accurate Changes in Reporting Relationships
With Lexchart, collaborating on organizational changes has never been easier. Multiple team members can work together to modify the org chart, ensuring that all changes are accurate and up-to-date. Lexchart's cloud-based platform makes it easy for team members to work from anywhere and share information seamlessly. This collaborative approach saves time, increases accuracy, and ensures that everyone is on the same page throughout the organizational restructuring process.
Communicate Effectively with Advanced Layout Optimization
Lexchart's advanced layout optimization feature helps organizations create clean and easy-to-understand org charts. With the ability to adjust chart layout based on data, users can present complex reporting structures in a simple and clear way, improving communication and decision-making processes. The layout optimization feature ensures that charts are both visually appealing and functional, with appropriate sizing, color-coding, and grouping, making it easy for stakeholders to understand the hierarchy of the organization.