Blackstone Company Structure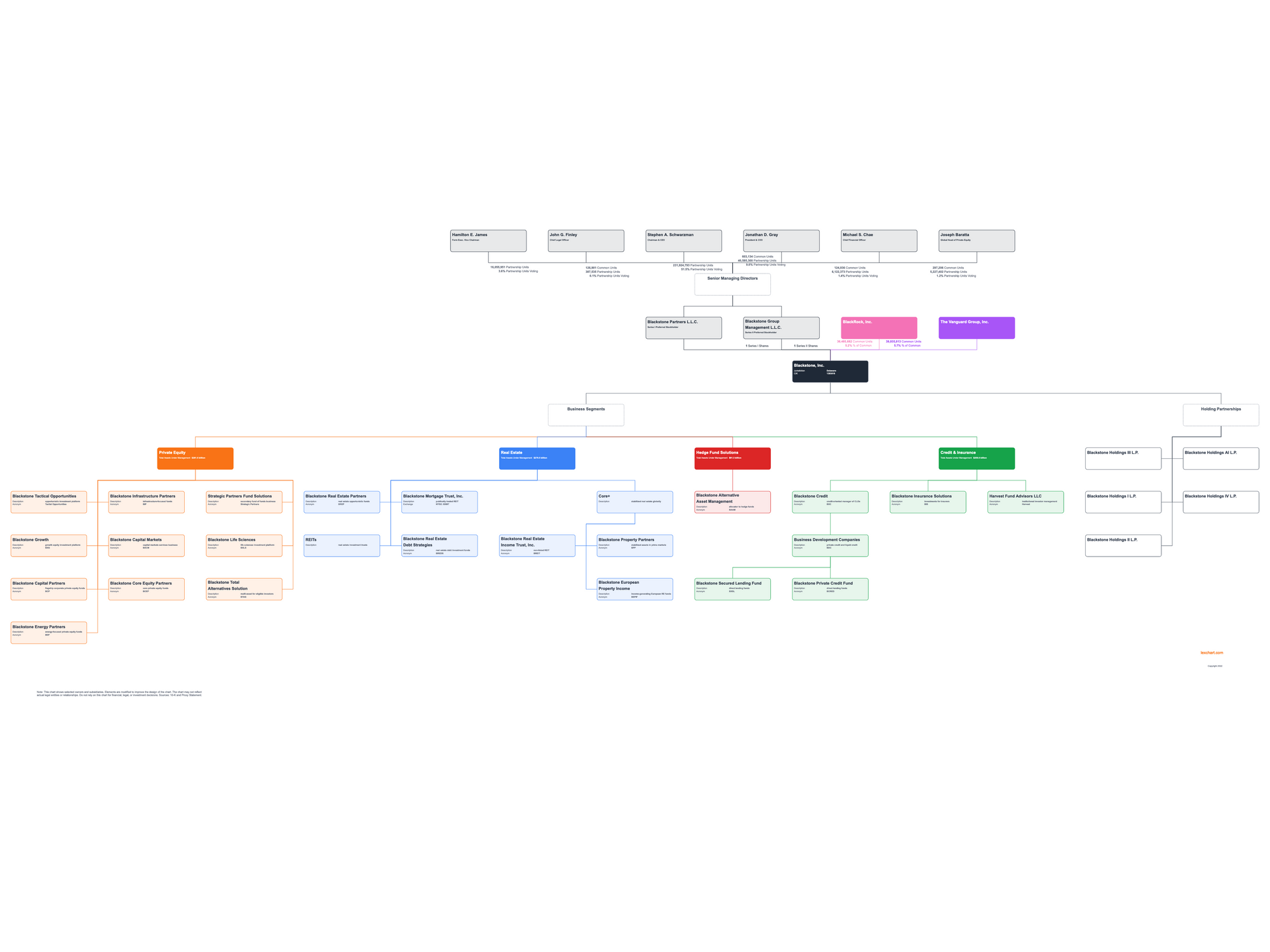 Blackstone trades on the New York Stock Exchange (NYSE) under the symbol BX. Blackstone is a Delaware corporation with its headquarters in New York based on its Securities and Exchange Commission (SEC) filings.
Blackstone is a global investment business working on behalf of institutional clients across asset classes.
This organization chart shows the ownership structure of Blackstone, Inc.
Blackstone's ownership structure is complicated. This organization chart shows the disclosed beneficial owners with information about the senior managing directors' stakes through two legal entities. The Vanguard Group and BlackRock are the outside beneficial owners with more than a 5% stake in Blackstone.
The chart shows the Partnership Units of Stephen Schwarzman, Chairman and Chief Executive Officer, and other senior managing directors. Partnership Units have conversion features and implications for voting control described in the 10-K.
This company structure chart shows the business segments that Blackstone uses to present its financial results: Real Estate, Private Equity, Hedge Fund Solutions, and Credit & Insurance. These segments are not legal entities. This org chart does use the segments to organize the top level legal entities operating in each of those segments.
Blackstone discloses over 1,000 legal entities in Exhibit 21 to its 10-K. We built a chart with all Blackstone's 1,000+ disclosed legal entities to illustrate what an outlier of company structure charts looks like. Exhibit 21 does not disclose ownership among those entities so that version of Blackstone's structure is meant to illustrate Lexchart's automatic hierarchy chart capabilities. It does not represent the legal relationships between Blackstone's entities.
The Blackstone org chart and the chart of all its legal entities were both created with the Excel import feature in Lexchart.