Unraveling 3M's Worldwide Subsidiaries: A Comprehensive Chart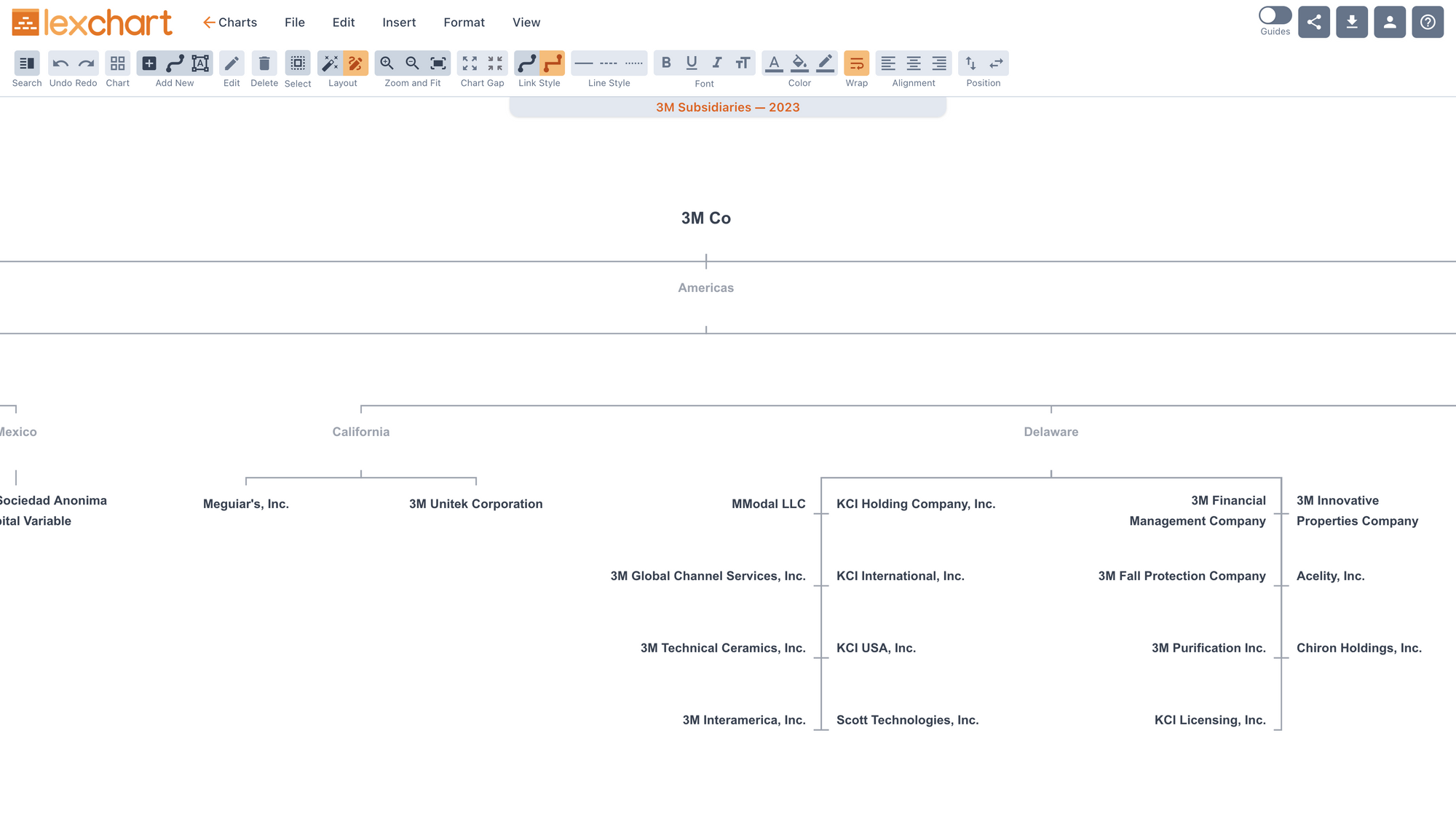 3M, originally known as the Minnesota Mining and Manufacturing Company, is a globally renowned conglomerate best known for its innovative and wide-ranging portfolio of products. Operating in various sectors such as industry, worker safety, health care, and consumer goods, 3M's pioneering spirit has led to such ubiquitous household products as Scotch tape and Post-it Notes, as well as an array of technological solutions for industries from automotive to healthcare. The company, headquartered in Saint Paul, Minnesota, conducts operations in more than 70 countries, maintaining a network that spans the globe.
3M Subsidiaries Structure Chart
This company structure chart offers a detailed visualization of 3M's diverse international corporate structure. Organizing the numerous subsidiaries by national and regional jurisdictions effectively showcases 3M's extensive global presence. With its roots firmly planted in the United States, 3M's global reach extends across the Americas, Europe, Middle East, Africa, and Asia.
Explore an interactive version of this chart with panning and zooming.
Key market presence in economies such as China, Japan, Germany, and the United Kingdom further emphasizes the company's global footprint. From established markets to emerging economies, the complexity and scale of 3M's global operations illuminate the corporation's commitment to innovation and adaptability in various global markets.
3M Business Strategy
3M's business strategy hinges on its capacity to utilize its scientific research capabilities to develop innovative products that meet the ever-changing needs of its diverse customer base. The company's significant investment in research and development sets it apart in the global market, having developed over 55,000 products that solve problems for people and companies around the world.
Data
The company is listed on the New York Stock Exchange and is a component of the Dow Jones Industrial Average under the ticker symbol: MMM.
Here is the source data imported into Lexchart to generate the company structure chart.
| Child | Parent |
| --- | --- |
| | 3M Co |
| 3M Financial Management Company | Delaware |
| 3M Global Channel Services, Inc. | Delaware |
| 3M Innovative Properties Company | Delaware |
| 3M Interamerica, Inc. | Delaware |
| 3M Purification Inc. | Delaware |
| 3M Technical Ceramics, Inc. | Delaware |
| Acelity, Inc. | Delaware |
| 3M Fall Protection Company | Delaware |
| Chiron Holdings, Inc. | Delaware |
| KCI Holding Company, Inc. | Delaware |
| KCI International, Inc. | Delaware |
| KCI Licensing, Inc. | Delaware |
| KCI USA, Inc. | Delaware |
| MModal LLC | Delaware |
| Scott Technologies, Inc. | Delaware |
| 3M Unitek Corporation | California |
| Meguiar's, Inc. | California |
| 3M Health Information Systems, Inc. | Maryland |
| D B Industries, LLC | Minnesota |
| MModal MQ Inc. | New Jersey |
| MModal Services, Ltd. | New Jersey |
| Kinetic Concepts, Inc. | Texas |
| 3M Australia Pty. Ltd. | Australia |
| 3M Precision Grinding GmbH | Austria |
| 3M Belgium bvba/sprl | Belgium |
| 3M do Brasil Ltda. | Brazil |
| 3M Manaus Industria de Produtos Quimicos Ltda. | Brazil |
| 3M Canada Company - Compagnie 3M Canada | Canada |
| Capital Safety Group Canada ULC | Canada |
| KCI Cayman Holdings | Cayman Islands |
| KCI Cayman Holdings II | Cayman Islands |
| 3M China Limited | China |
| 3M International Trading (Shanghai) Co., Ltd. | China |
| 3M Investments (China) Co., Ltd. | China |
| 3M Material Technology (Suzhou) Co., Ltd. | China |
| 3M Specialty Materials (Shanghai) Co., Ltd. | China |
| 3M Purification SAS | France |
| 3M France S.A.S. | France |
| Capital Safety Group EMEA | France |
| 3M Deutschland GmbH | Germany |
| 3M Real Estate GmbH & Co KG | Germany |
| Dyneon GmbH | Germany |
| 3M Hong Kong Limited | Hong Kong |
| 3M India Limited | India |
| 3M Global Capital Limited | Ireland |
| KCI Manufacturing Unlimited Company | Ireland |
| 3M ITALIA s.r.l. | Italy |
| 3M Japan Holdings G.K. | Japan |
| 3M Japan Innovation Limited | Japan |
| 3M Japan Limited | Japan |
| 3M Japan Products Limited | Japan |
| 3M Korea Co., Ltd | Korea |
| Medical Holdings Limited | Malta |
| 3M Mexico, Sociedad Anonima de Capital Variable | Mexico |
| 3M Asia Holding B.V. | Netherlands |
| 3M Holding Company B.V. | Netherlands |
| 3M Intermediate Acquisitions B.V. | Netherlands |
| 3M International Group B.V. | Netherlands |
| 3M International Holding B.V. | Netherlands |
| 3M International Investments B.V. | Netherlands |
| 3M West Europe B.V. | Netherlands |
| KCI Europe Holding B.V. | Netherlands |
| Systagenix Wound Management B.V. | Netherlands |
| Systagenix Wound Management Mezz B.V. | Netherlands |
| 3M Panama Pacifico S. de R.L. | Panama |
| 3M Poland Manufacturing Sp. z.o.o. | Poland |
| 3M Wroclaw spolka z ograniczona odpowiedzialnoscia | Poland |
| 3M Innovation Singapore Pte. Ltd. | Singapore |
| 3M Singapore Pte. Ltd. | Singapore |
| 3M Espana, S.L. | Spain |
| 3M Svenska Aktiebolag | Sweden |
| 3M EMEA GmbH | Switzerland |
| 3M Taiwan Limited | Taiwan |
| 3M Taiwan Optronics Corporation | Taiwan |
| Alpha Beta Global Tapes and Adhesives Co., Ltd. | Taiwan |
| 3M Thailand Limited | Thailand |
| 3M Asia Pacific UK Holding Ltd | United Kingdom |
| 3M Products Limited | United Kingdom |
| 3M UK Holdings Limited | United Kingdom |
| 3M United Kingdom Public Limited Company | United Kingdom |
| Capital Safety Acquisitions Limited | United Kingdom |
| Capital Safety Global Holdings Limited | United Kingdom |
| KCI UK Holdings Limited | United Kingdom |
| Scott Health & Safety Limited | United Kingdom |
| Systagenix Wound Management, Limited | United Kingdom |
| Americas | 3M Co |
| EMEA | 3M Co |
| European Union | EMEA |
| Europe ex-EU | EMEA |
| Americas - ex US | Americas |
| United States | Americas |
| Oceania | Asia |
| Southeast Asia | Asia |
| South Asia | Asia |
| East Asia | Asia |
| Asia | 3M Co |
| Delaware | United States |
| California | United States |
| Maryland | United States |
| Minnesota | United States |
| New Jersey | United States |
| Texas | United States |
| Australia | Oceania |
| Austria | European Union |
| Belgium | European Union |
| Brazil | Americas - ex US |
| Canada | Americas - ex US |
| Cayman Islands | Americas - ex US |
| China | East Asia |
| France | European Union |
| Germany | European Union |
| Hong Kong | East Asia |
| India | South Asia |
| Ireland | European Union |
| Italy | European Union |
| Japan | East Asia |
| Korea | East Asia |
| Malta | European Union |
| Mexico | Americas - ex US |
| Netherlands | European Union |
| Panama | Americas - ex US |
| Poland | European Union |
| Singapore | Southeast Asia |
| Spain | European Union |
| Sweden | European Union |
| Switzerland | Europe ex-EU |
| Taiwan | East Asia |
| Thailand | Southeast Asia |
| United Kingdom | Europe ex-EU |