Nike Ownership Structure [2022]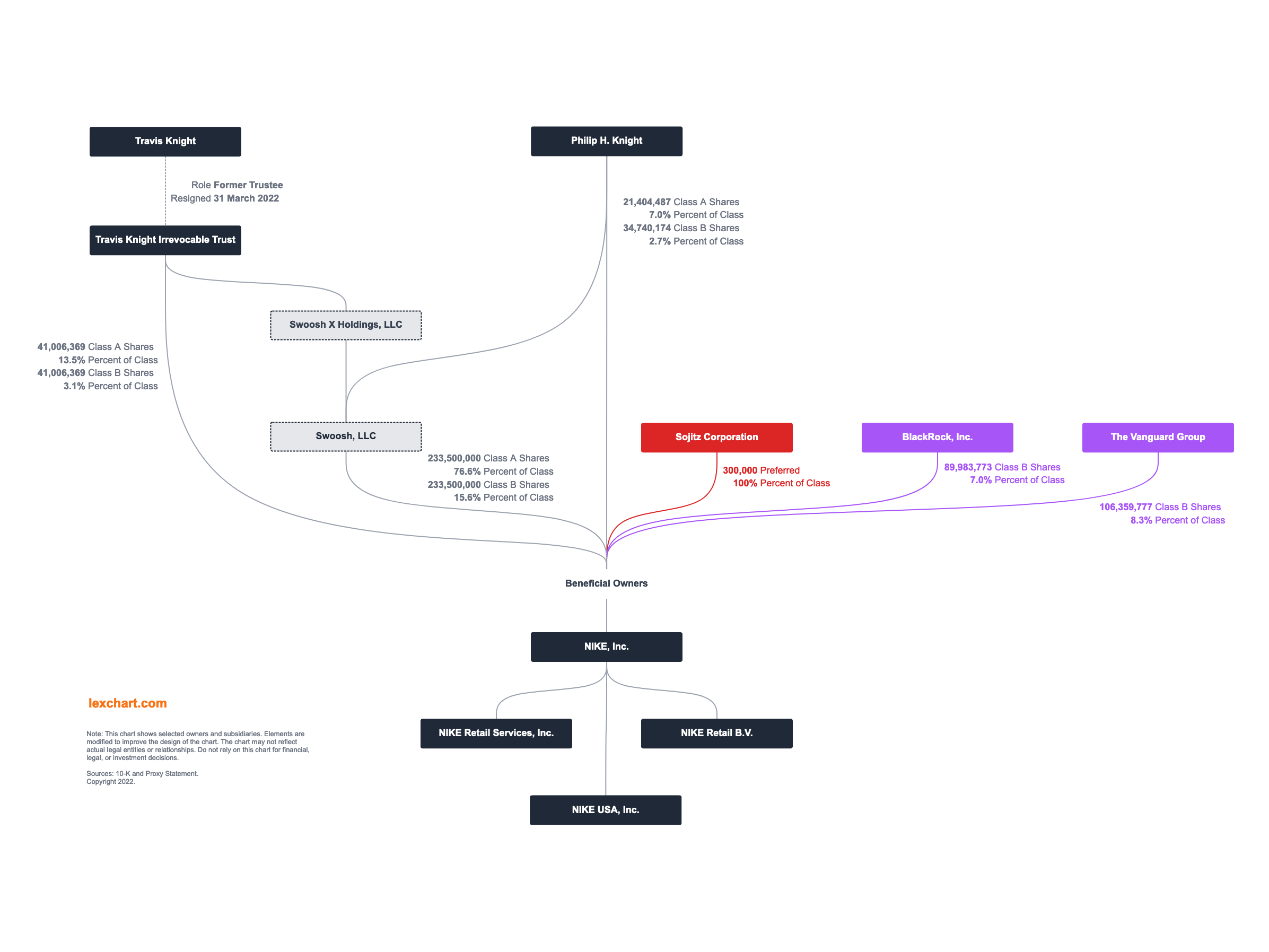 NIKE, Inc. trades publicly on the New York Stock Exchange (NYSE) under the ticker symbol NKE.
This Nike ownership chart shows the beneficial owners of NIKE, Inc. The chart shows some of the intricacies of Phil Knight and Travis Knight's ownership and control of Nike. The chart shows Swoosh, LLC and the Travis A. Knight 2009 Irrevocable Trust II.
This 2022 Proxy Statement for Nike (Schedule 14A) includes this note about the Class A and Class B shares of Nike.
The following table sets forth the number of shares of the classes of NIKE securities beneficially owned, as of June 30, 2022, after giving effect to any transactions that occurred on such date, by (1) each person known to the Company to be the beneficial owner of more than 5 percent of any class of the Company's securities, (2) each of the directors and nominees for director, (3) each executive officer listed in the Summary Compensation Table ("Named Executive Officers"), and (4) all directors, Named Executive Officers, and other executive officers as a group. Because Class A Stock is convertible into Class B Stock on a share-for-share basis, each beneficial owner of Class A Stock is deemed by the SEC to be a beneficial owner of the same number of shares of Class B Stock. Therefore, in indicating a person's beneficial ownership of shares of Class B Stock in the table, it has been assumed that such person has converted into Class B Stock all shares of Class A Stock of which such person is a beneficial owner. For these reasons the table contains substantial duplications in the numbers of shares and percentages of Class A and Class B Stock shown for Swoosh, LLC, Philip Knight, and the Travis A. Knight 2009 Irrevocable Trust II.
This company ownership chart of Nike, Inc. was generated automatically with Lexchart and from public data courtesy of the Securities and Exchange Commission (SEC) with modifications described on the the chart.