Mergers and acquisitions (M&A) transaction structure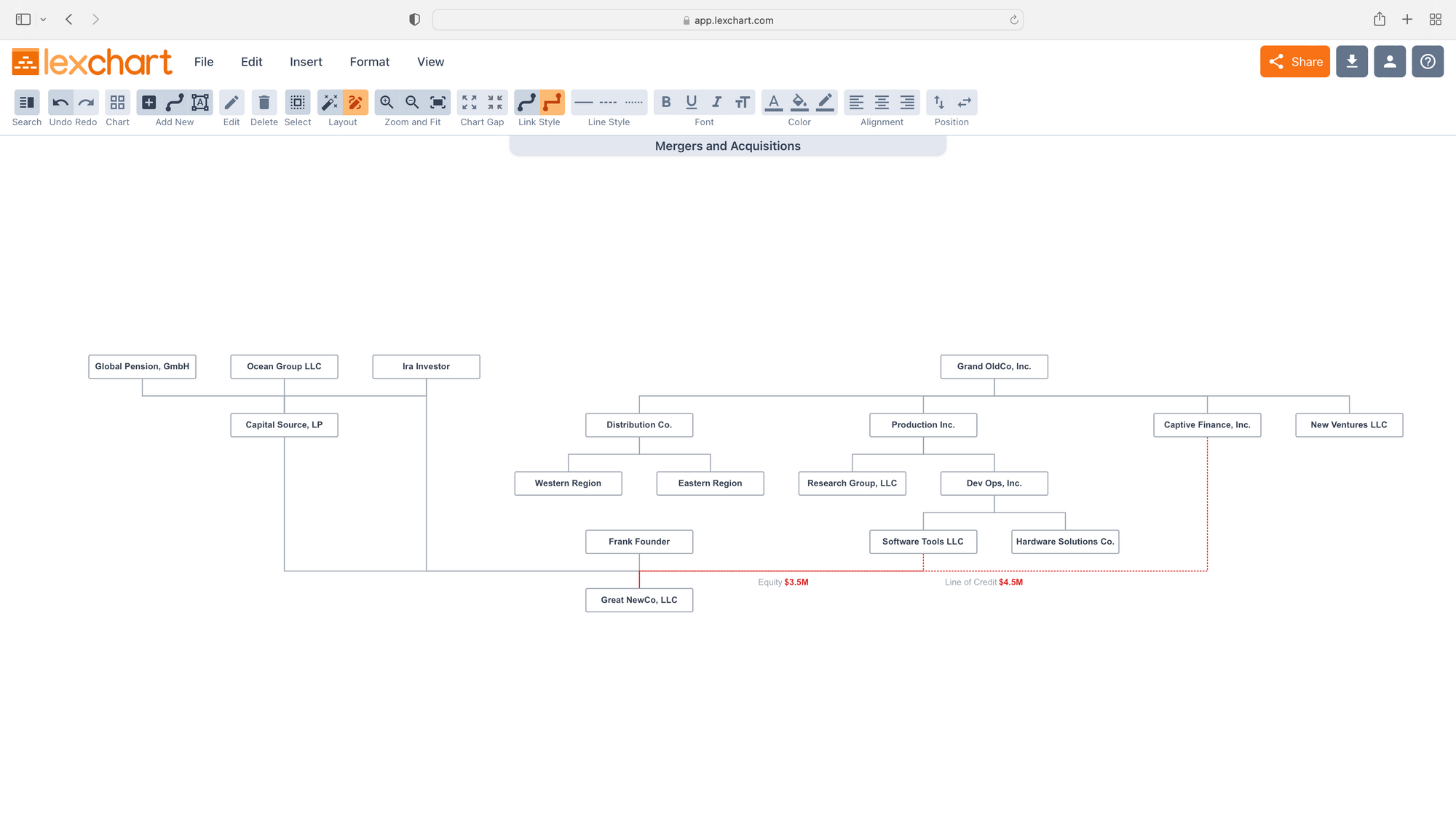 Transcript
To show possible legal structures of an acquisition, I will start with a new chart and give it a name.
Let's create the target company, Great NewCo LLC.
With the chart window, I can create all the entities and connections for Great Newco.
Notice how Ira Investor is both a direct and indirect owner of Great NewCo.
Now I will create the acquiring company, Grand OldCo, Inc. Grand OldCo has several layers of subsidiaries. I will use the chart window to add those subsidiaries. The chart window allows me navigate up and down the hierarchy to add new branches and entities.
I create adjacent charts to show different transactions structures: option 1. Grand OldCo buys all of Great NewCo, and option 2. an investment deal by two Grand OldCo subsidiaries. I will combine the two charts in different ways to show the automatic layout in Lexchart.
The result is the target company and the acquiring company.
In option one, Grand OldCo completes a whole company acquisition of Great NewCo. I will use the chart window to create the connection between Grand OldCo and Great NewCo.
I will remove the connections between Great NewCo and it's prior owners. We can delete the prior owners from the chart.
Use the design tools to highlight the changes in company hierarchy.
In option two, Grand OldCo will make an equity and debt investment in Great NewCo through two subsidiaries.
I edit Great NewCo's links in the chart window to add Software Tools and Captive Finance.
Lexchart can cycle through other good layout options.
I will highlight the changes in corporate hierarchy with the design tools. Are curved links an improvement? Maybe not in this case.
The chart needs to show what the investment information for each subsidiary.
Software Tools makes an equity investment with the Link window.
Captive Finance extends a line of credit with the Link window.
I will reformat the data with design tools and reposition them on the chart.
These factors require Lexchart to account for complications in both the vertical and horizontal placement of branch.
Modeling M&A transactions is an easy task for Lexchart.