Does Microsoft Word have an org chart?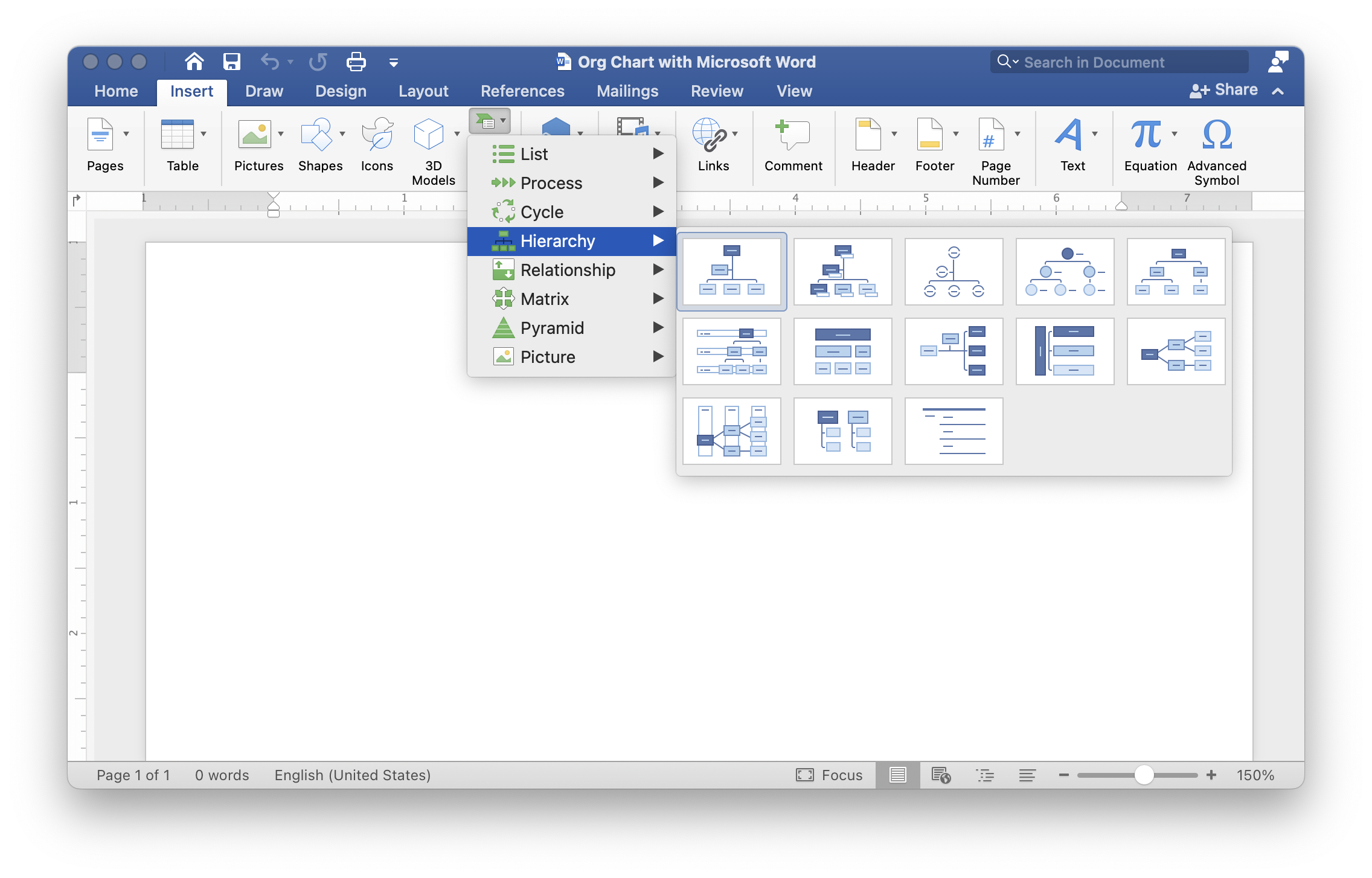 Yes, Microsoft Word can be used to create organization charts with the SmartArt feature. Word relies on SmartArt to display an org chart along with other types of charts.
Make an org chart in Word with SmartArt
What is SmartArt
SmartArt is a feature available in many Microsoft 365 (formerly known as Office) products, including Word, Excel, and PowerPoint, that allows you to create professional-looking diagrams, charts, and graphics. SmartArt presents information in a visually predetermined way.
When you insert a SmartArt graphic in an Office document, you can choose from pre-designed templates, each with its own layout, style, and color scheme. SmartArt provides you with a variety of text and image placeholders that you can easily customize to suit your needs.
SmartArt graphics can be used to create various types of diagrams, such as organizational charts, process diagrams, flowcharts, and lists. They can also be used to create timelines, pyramids, and cycles.
You can add, remove, and rearrange shapes, change the color scheme, and add text to each shape in the SmartArt graphic. The focus of SmartArt is visually appealing small charts. Users create organization charts manually with SmartArt.
Where is SmartArt for org charts in Word?
SmartArt is on the Insert tab in word. The Insert tab a variety of options to insert pictures, shapes, and SmartArt.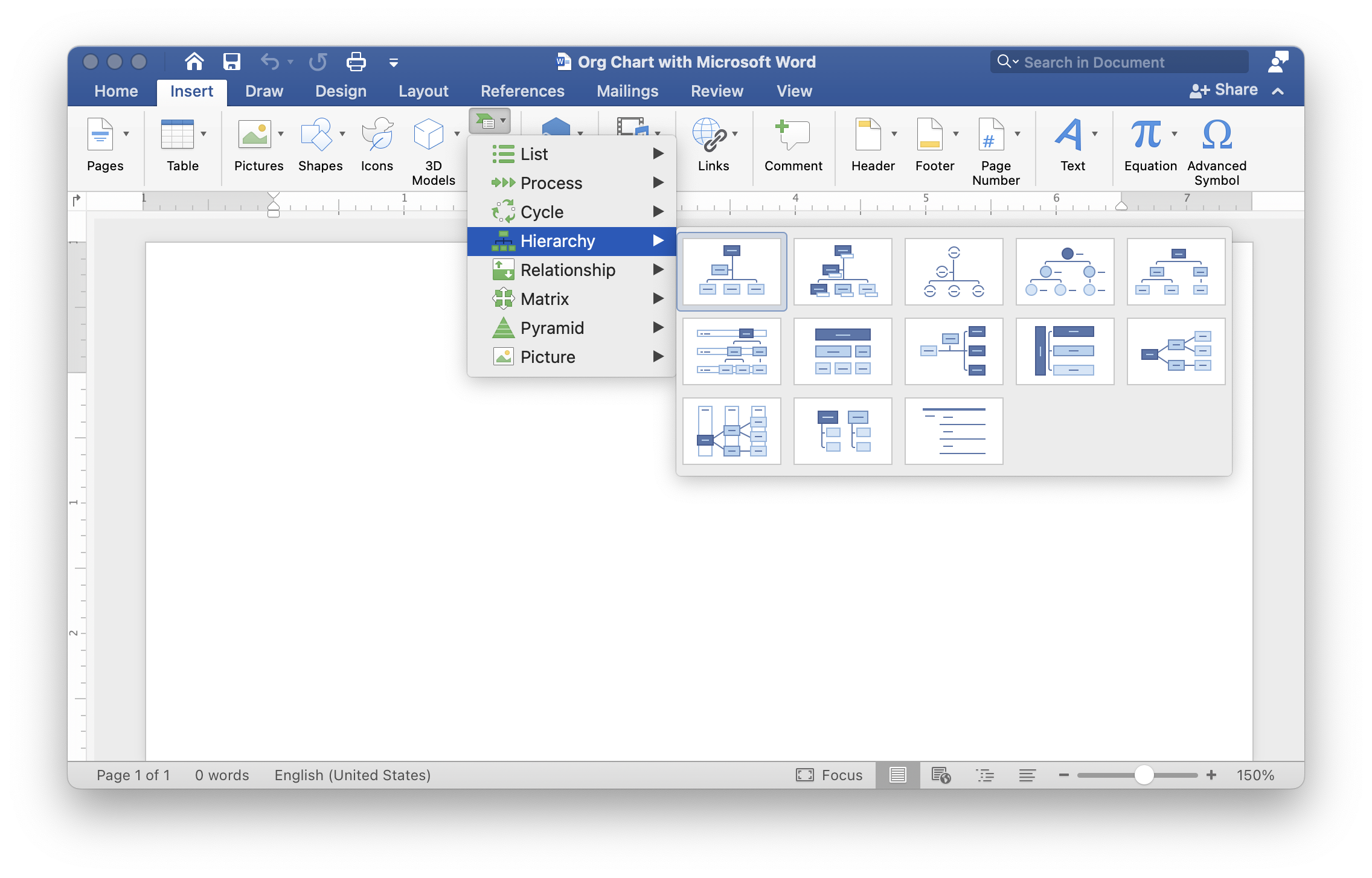 What does a SmartArt org chart look like in Word?
When you insert a SmartArt organization chart from the hierarchy chart palette, Word displays a side panel where you can enter information for the org chart.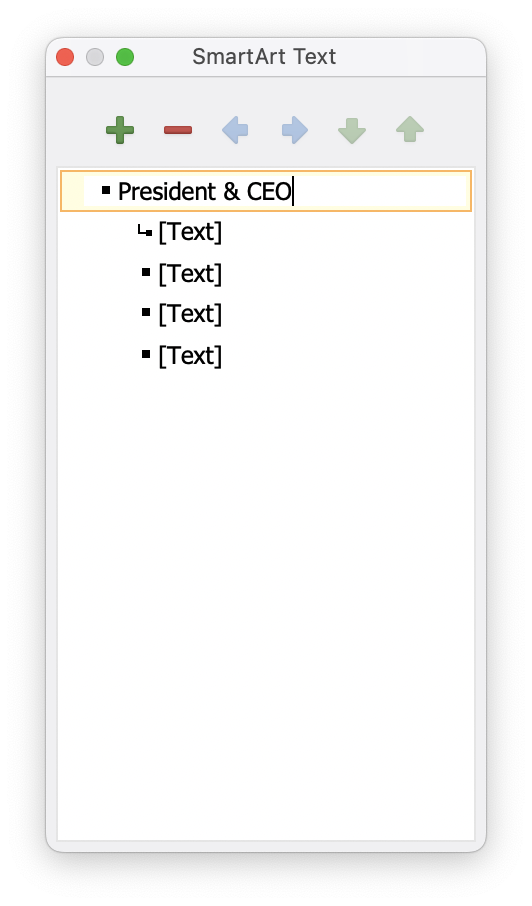 Problems with Word and SmartArt for org charts
1. Word means manual data entry
Org charts in Word are not automatic or data-driven. This means that you must type every word on the chart. The chart has limited ability to create a hierarchy for you. True, SmartArt will add boxes and branches, but it does not understand the relationship between boxes. You also cannot use a spreadsheet of employees or companies to generate an org chart.
2. Word requires a fixed canvas
Document applications like Word use a fixed canvas. To get an organization chart to fit the canvas requires you to push, pull, resize, collapse, and contort the chart to fit.
This space makes only simplistic charts visible. Large, realistic charts are either reduced to the point of illegibility or cut across multiple slides, losing the benefit of a comprehensive view.
The quality and canvas size for SmartArt hierarchy charts relates to the page size and orientation of the pages in the Word document. SmartArt in Word is best for small charts which do not need to change often.
3. Word has no AI layout support
Word uses a crude layout feature which does not support realistic layouts. Word does not have artificial intelligence to evaluate your employee or company data to create an org chart in seconds.
Sharing org charts with Word
If you want to share an org chart, Word is a bad choice. Sending an org chart embedded in Word means that you are send a small, simplistic chart or one that is cramped and hard to read.

To communicate the organization structure without embedding it in Word, download the chart at whatever size it is and send it to your audience. You do not need to embed, alter, or fold your chart into a paper airplane to send. If the chart is large, download it in the natural size. Your audience will open the file and see the chart in all its glory.
Conclusion
Word is not going anywhere. Someone probably asked you "make an org chart in Word." When you search for "How to create an org chart Word", consider "Should I create an org chart in Word" or "Alternatives to creating an org chart in Word".
As an alternative, consider Lexchart which uses artificial intelligence to find and present the best layout of your organization chart.