The Real Ownership Structure Behind Sam Bankman-Fried and FTX Trading Ltd.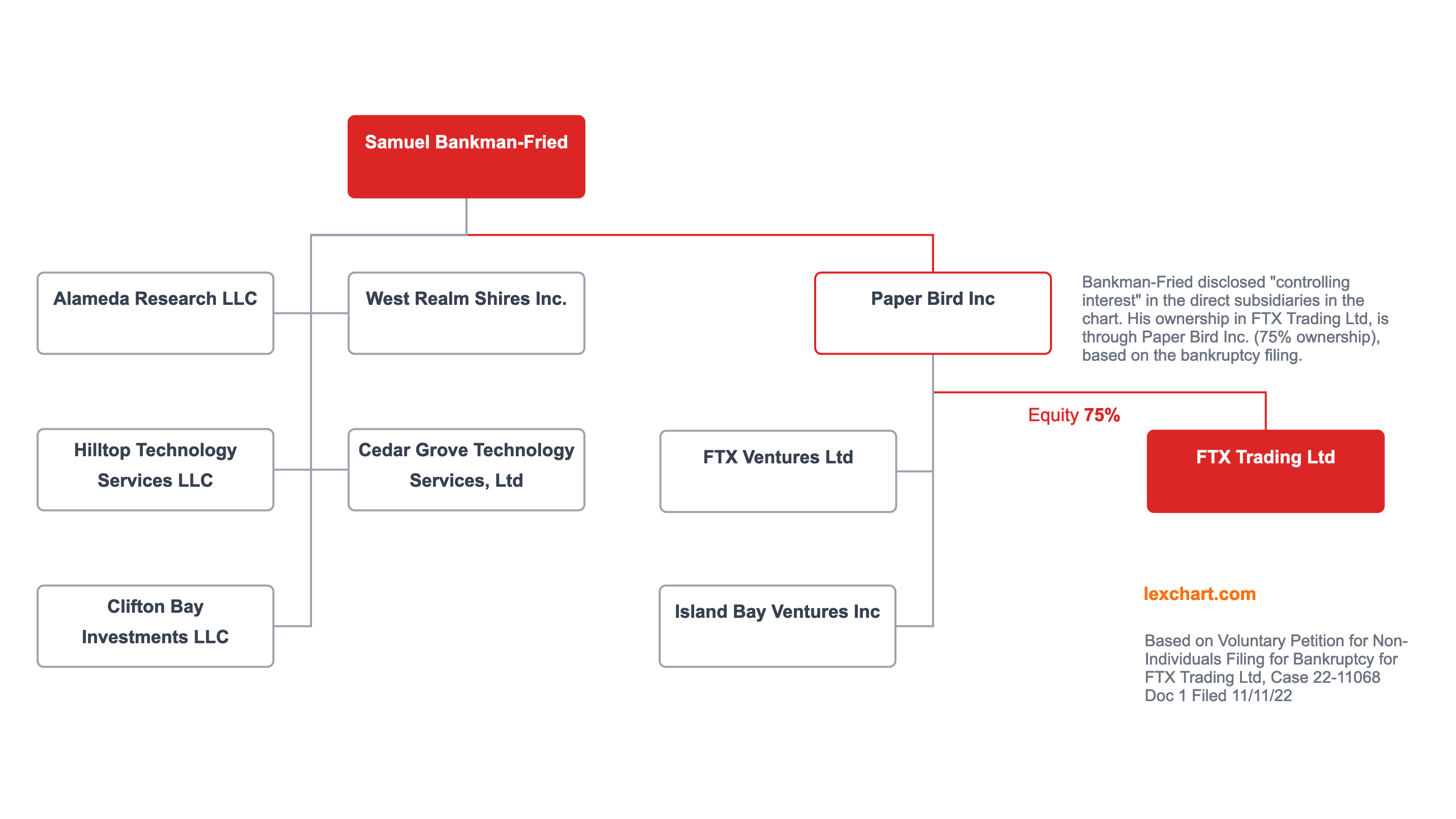 The FTX Trading Bankruptcy Filing
FTX Trading Ltd filed for Chapter 11 bankruptcy protection on Friday, November 11, 2022 (Case 22-11068). FTX Trading Ltd is ultimately controlled by Sam Bankman-Fried.
The bankruptcy filing identifies 134 legal entities (affiliates or subsidiaries of FTX Trading Ltd) as part of the petition.
The bankruptcy filing includes an Omnibus Corporate Authority and a Corporate Ownership Statement. We ran all of the legal entities and ownership relationships in the filing through Lexchart to generate an company structure chart for Sam Bankman-Fried and FTX Trading Ltd.
Sam Bankman-Fried Direct Ownership
The filing refers to the "Top Companies" which are directly controlled by Sam Bankman-Fried, "as controlling owner, director, officer, manager or other authorized person":
West Realm Shires Inc.,
Paper Bird Inc.,
Hilltop Technology Services LLC,
Cedar Grove Technologies Services, Ltd.,
FTX Trading Ltd,
Alameda Research LLC and
Clifton Bay Investments LLC.
This company structure chart shows that Bankman-Fried's control of FTX Trading Ltd comes from Paper Bird, Inc.'s 75% ownership in FTX Trading Ltd.
FTX Group Company Structure
The bankruptcy filing refers to the "FTX Group" which includes the Top Companies all directly or indirectly owned subsidiaries.
The following company structure chart shows the entire FTX Group, Sam Bankman-Fried, and "third party investors":
Excluded Legal Entities
The press release from FTX on Twitter says that the following entities are excluded from the bankruptcy filing:
LedgerX LIC,
FTX Digital Markets Ltd.,
FTX Australia Pty Ltd. and
FTX Express Pay Ltd.
Sources and Techniques
These charts rely on the bankruptcy filing below.
The filing was made in the United States Bankruptcy Court, District of Delaware. The related case numbers and legal entities are listed on the recent Chapter 11 filings for the court.
These charts were generated automatically with Lexchart.
In a subsequent article, we will identify some anomalies in the bankruptcy filing.